To create an Easel Assessment, you will need to log into your TpT School Access account and go to Easel by TpT. From your Easel dashboard, click the 'Create' button and select Assessment from the drop-down menu.
Now it's time to decide on the question(s) that you would like your students to answer, and to upload an image to your Assessment! After you enter your question and upload your image, you can insert up to 4 possible answers. You will also have the option to choose between Single Select, Multiple Select, True or False, and Poll style questions depending on how you want to designate responses: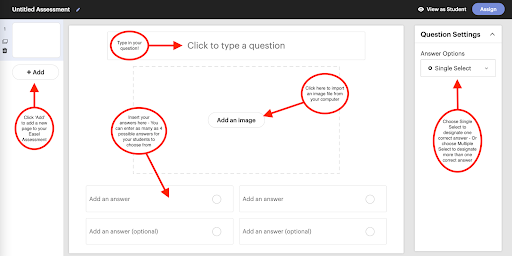 You are now ready to assign your Easel Assessment to your students.
For more information on how to assign your Easel Assessments, we encourage you to view our Getting Started Guide, or the Help Center article linked below. However, if you're already familiar with Easel Activities, then please know that the assigning process works the same way!