To add multiple users to your account at once using a CSV file, please click on the green 'Add Users' button on the top right of the Roster Management page and select the 'Upload a CSV' option.
You'll need to upload a CSV that is formatted with each user's first name, last name, email address, and role (either teacher or admin), as seen here: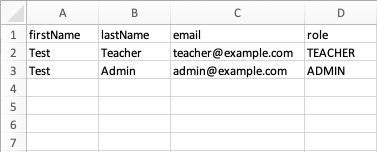 You can also download the attached blank CSV file to complete with your teacher's information and upload it on the Roster Management page:
Once you upload the file, you can make any adjustments or edits as needed. Once finalized, click 'Send Invitations.' Teachers will then receive an invitation email with the link to activate their accounts.