The library contains over 4 million PreK-12 TPT resources, including:
The TPT School Access library includes all core subjects and other content areas such as social-emotional learning, STEM/STEAM, project-based learning, and many more. New resources are added daily from Teacher-Authors participating in School Access.
To find digital resources to share with your students, you can use the "Formats" filter on the search page: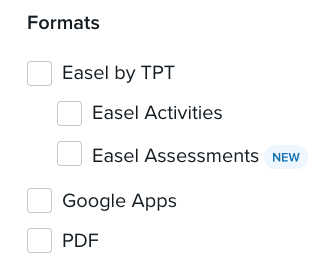 Easel Activities

: This filter will show PDF resources that are either compatible with

Easel Activities or contain an Easel Activity that has been prepared by the Teacher-Author. With Easel Activities, you can create online, editable, and interactive activities to share with your students to complete on any device — whether they're learning in the classroom or at a distance.


Easel Assessments: This filter will show resources that contain an Easel Assessment that has been created by the Teacher-Author. Easel Assessments make it easy to create and assign engaging, device-based, self-grading quizzes that are perfect for remote or in-person instruction.


Made for Google Apps: This filter will show resources that are Online Resources made for Google Apps, as well as other resources that you can use directly on Google Docs, Slides, Sheets, or Forms.


Other Digital Resources

: This filter will show resources that are compatible with digital devices. The Teacher-Authors of these resources have indicated that the resources can be used for device-based learning. Some examples of these include internet activities, webquests, and activities that you can share with students online.
Have additional questions about digital resources? Contact us. We're happy to help!